I like Thai green curry. It tastes fresh. I like adding to its natural freshness by using partially-cooked vegetables, whose crunchiness really complement the soft chicken.
Let me warn you that the curry paste I used in this recipe is significantly more spicy than I thought it would be. If you're down for some spiciness, this dish should hit the spot.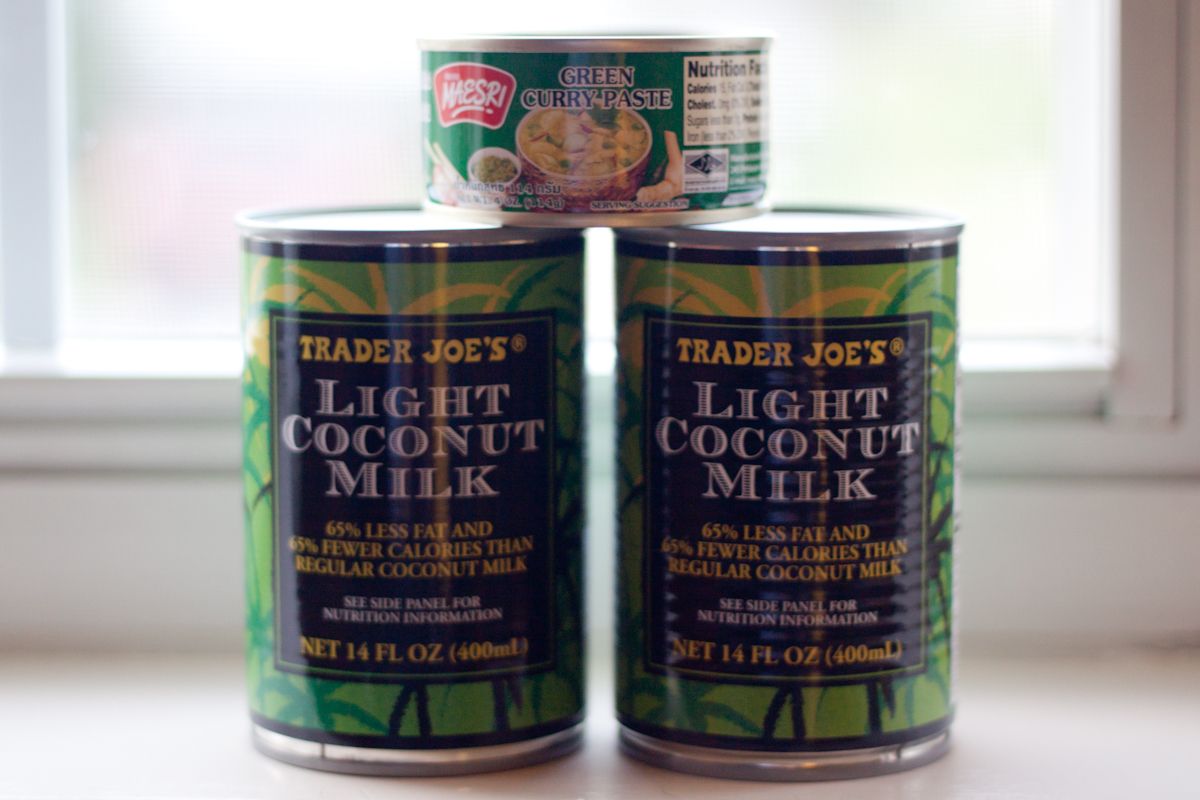 Editor's note: we tried out Trader Joe's light coconut milk because it was on sale (despite having less healthy fat than regular coconut milk). It's not very tasty, and we're not going to use it again.
You'll Need:
6 boneless, skinless chicken thighs, cut into bit sized pieces
2 cans coconut milk
1 can Maesri Green Curry Paste
3 cups raw chopped veggies (2 carrots, 1 zucchini, some broccoli)
1 tsp fish sauce
1 tbsp coconut oil
1 lime
Maesri is by far my favorite brand of Thai curry paste. Besides tasting great, it's made with natural ingredients – this particular paste has dried green chilies, garlic, shallot, salt, lemongrass, kaffir lime, galangal, and spices. The small cans also make the perfect amount for a four-person dish.
Warm the oil in a wok on medium heat. Add the curry paste and mix together, and saute until fragrant. Add one can of coconut milk and the fish sauce, and stir together until it starts to boil. Stir in the chicken and half of the other can of coconut milk, and reduce the heat to med-low. Simmer (uncovered) for about eight minutes, stirring occasionally, until the chicken is nearly cooked through. Add the fresh veggies, cover and cook for another four minutes. Check the level of spiciness – if it's too much, add the other half of the coconut milk. If it's not too spicy, save the coconut milk for some other delicious meal.
Serve with lime slices on the side, with rice or cauliflower rice.