There are basically three ways to go about making a gluten-free lasagna: 1) substitute the noodles with a vegetable such as zucchini or eggplant; 2) use rice noodles; or 3) use Cappello's grain-free lasagna sheets. Pretty easy, right? This recipe works for both options 2 and 3. This is my no-frills, tried-and-true (and pre-Paleo) recipe, with the only adjustment I've made is the type of noodle.
Lasagna is likely an ancient Greek food that was passed to the Romans (and later, Italians) over time. The word itself could either come from the Greek word λάγανον (laganon, meaning a flat sheet of pasta) or from the Latin word λάσανον (lasanon, meaning cooking pot). No one's quite sure. Either way, tomatoes weren't added to the dish until later, since Columbus was the first person to bring them to Europe in the 15th century.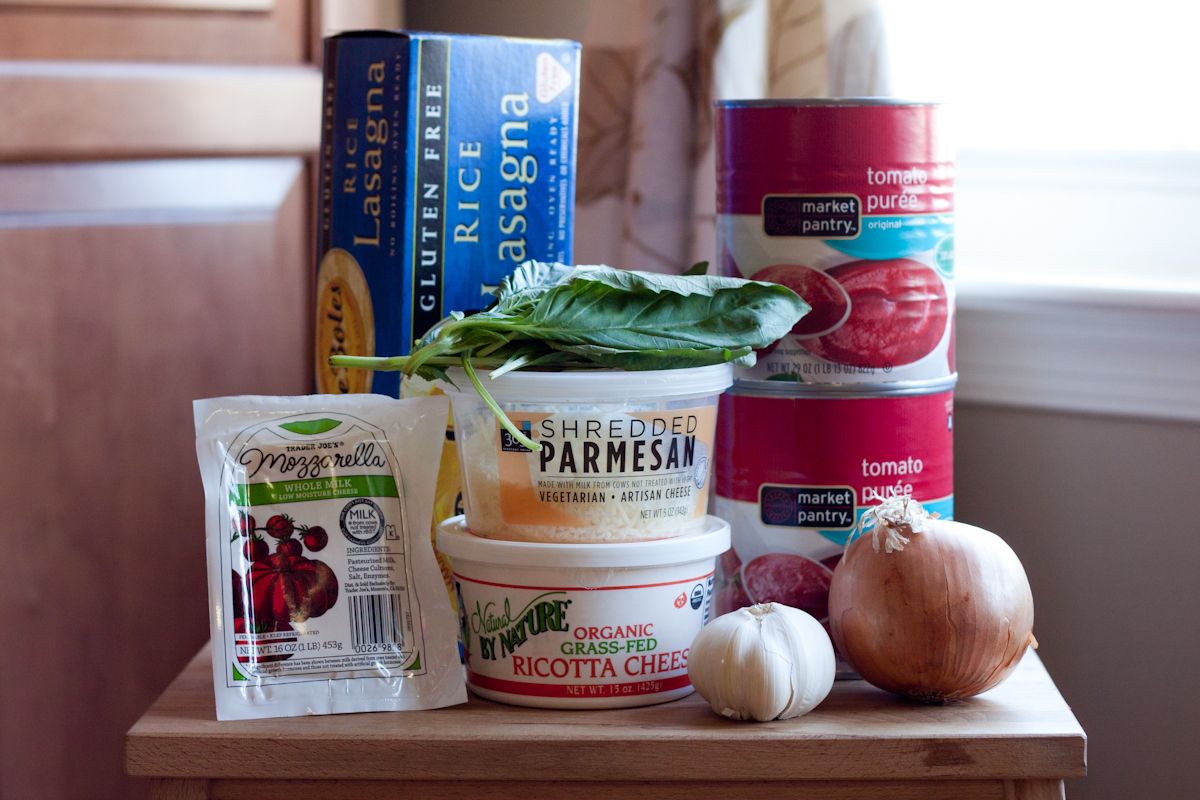 You'll Need:
1 pkg no-boil lasagna rice noodles or Cappello's grain-free lasagna sheets
1 lb each ground beef and ground pork
1 medium onion, chopped finely
6 cloves garlic, minced
1 tsp each salt and pepper
1 tbsp olive oil
1/4 cup heavy cream
2 28oz cans pureed tomatoes
15oz while milk ricotta cheese
1 1/4 cups parmesan cheese, shredded
1 lb whole milk mozzarella cheese, shredded
1/2 cup fresh basil, chopped
1 egg
The two different noodles definitely have their own unique consistency. The rice noodles are somewhat firm, but tend to cook unevenly and can result in an occasional crunchy bite of uncooked pasta, which isn't very pleasant. It reheats well, though. The fresh pasta from Cappello's is much thinner and less intrusive than the rice noodle, allowing your attention to focus on the other ingredients.
I like to use two cans of pureed tomatoes because I don't like chunks of tomato in my lasagna. If you like chunks use one can of diced tomatoes and one can of pureed tomatoes instead of two cans of pureed tomatoes. No biggie.
In a dutch oven, heat the olive oil on medium heat for a few minutes. Add the onions and sauté for about five minutes, until they are softened. Add the garlic and sauté for another minute or two, stirring often, until fragrant.
Add the ground beef and ground pork, breaking the pieces apart with a wooden spoon. Also add 1/2 tsp each of the salt and pepper. Cook until it starts to turn brown (but not fully cooked), and then add the cream.
Simmer everything together for another five minutes, stirring often.
Add the pureed tomatoes and reduce the heat to med/low once it starts bubbling. Simmer everything for about 10 minutes, stirring occasionally.
While the meat sauce is simmering, get your cheese mix ready. Mix together the ricotta, 1 cup of the parmesan cheese, the chopped basil, egg, and the rest of the salt and pepper and set it aside.
Once the meat sauce is ready, it's time to put everything together. Preheat your oven to 375 degrees. Scoop a little meat sauce onto a 9×13 baking dish and spread on a thin bottom layer.
Place three noodles over the meat sauce. Next, scoop a third of the cheese mix onto the noodles, spreading it all over. Sprinkle a third of the shredded mozzarella cheese over the cheese mix, and then scoop a third of the remaining meat sauce on top. Repeat this process again for one more layer.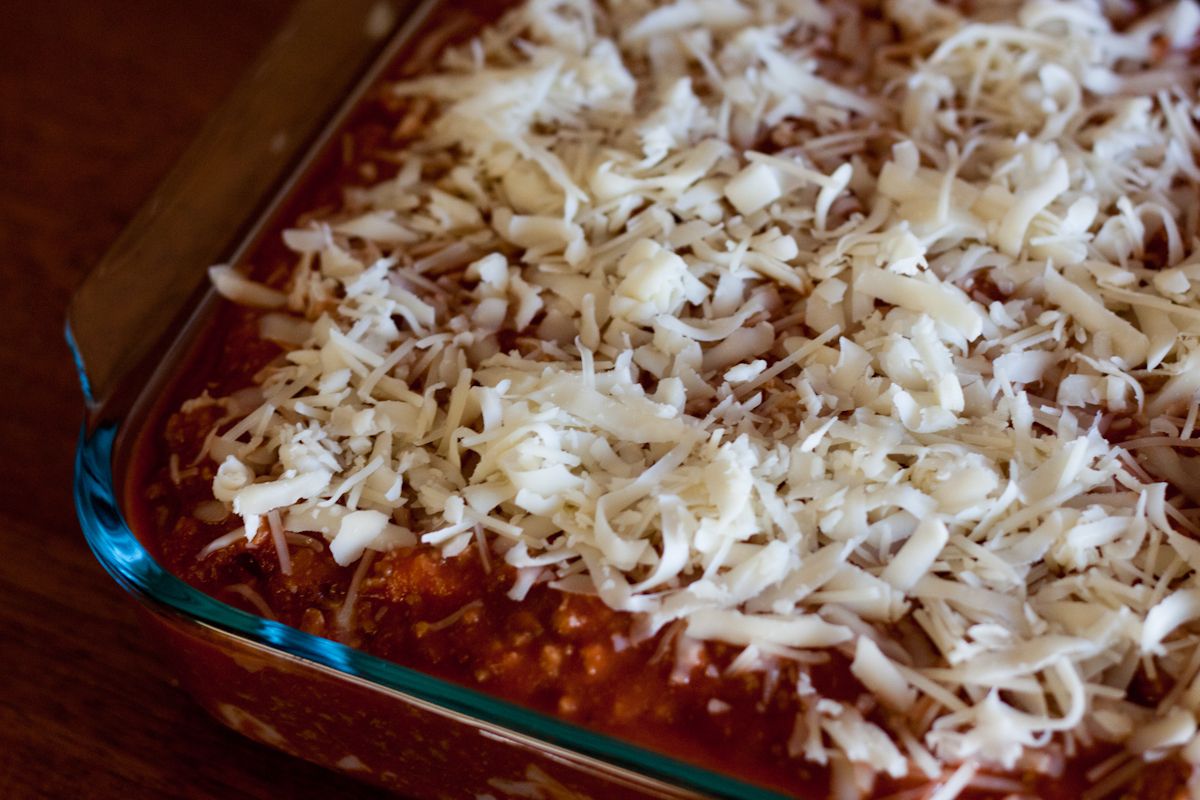 For the final layer, we're going to change it up a bit. Place the last three noodles down, then the last of the cheese mix, and then the last of the meat sauce. Mix together the rest of the mozzarella cheese and the 1/4 cup of parmesan cheese that you didn't use in the cheese mix. Sprinkle the mozzarella/parmesan cheese over the meat sauce.
Bake the lasagna on a middle rack for 40 minutes. Remove from the oven and allow to cool for at least 20 minutes before serving.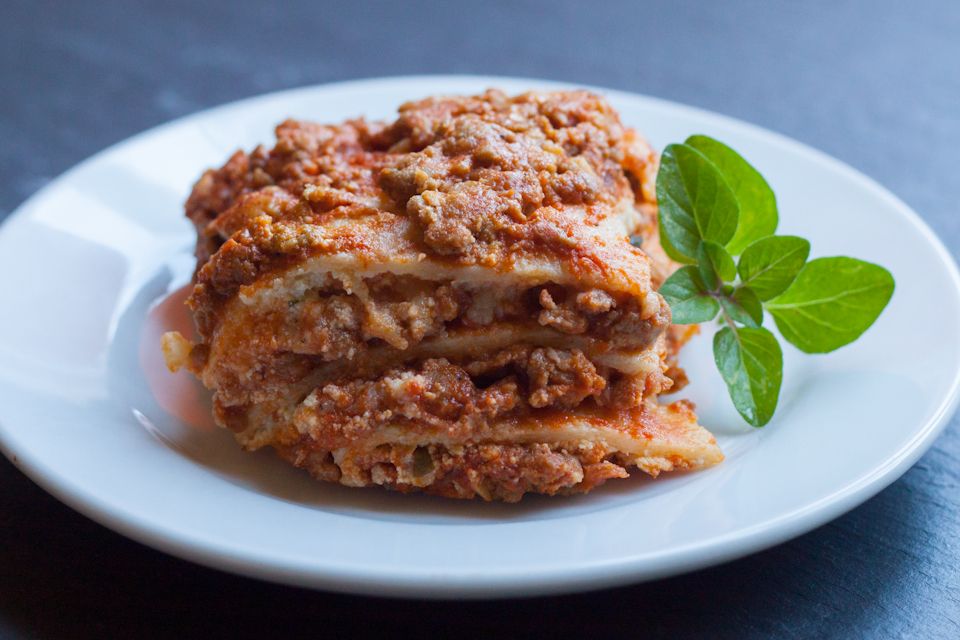 This dish is especially tasty if you refrigerate it overnight and eat it the next day, and you can even freeze some of it in a ziploc bag for a quick and easy meal sometime in the future.