I recently teamed up with Julie, the creative wizard behind Paleo Republic, to conduct a "blind cocktail experiment using vodka and five ingredients or less." The experiment was pretty fun, and eye-opening; given the fact that I studied Russian for a good chunk of my school years I blindly assumed that a vodka drink should be inspired by cold weather. Julie, on the other hand, saw it as an opportunity to incorporate spring seasonal ingredients for the perfect BBQ drink. Check out her concoction, Pinkerton, right here.
My drink was created as a way of capturing the cold winters in the North. I thought my little touch of fresh rosemary really sealed the deal – it was like drinking a forest.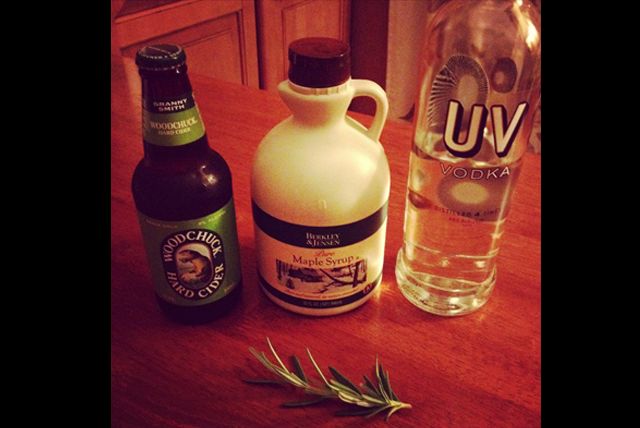 You'll Need:
1 shot vodka
1 shot pure maple syrup
4oz hard cider
1 sprig fresh rosemary
Fill a glass with a bunch of ice (a hefty handful should be good). You need this drink to be COLD to remind you of those hard winter nights at the gulag/logging camp/men's retreat. Pour in the cider, then the syrup, and then the vodka. Swirl around a bit, and stick the rosemary in as a garnish.
That's it! I was pleasantly surprised (and a little alarmed) at how easily I was able to down this simple little drink. Of course, if you're going to be drinking alcohol in any large quantity, I highly recommend the epic Highbrow Paleo Guide To Binge Drinking: Mitigating the Deleterious Effects of Ethanol on Health posts, which you can find here and here.
Let's also not forget that some people consider pho to be the ultimate hangover meal – and for good reason considering the benefits related to bone broth!