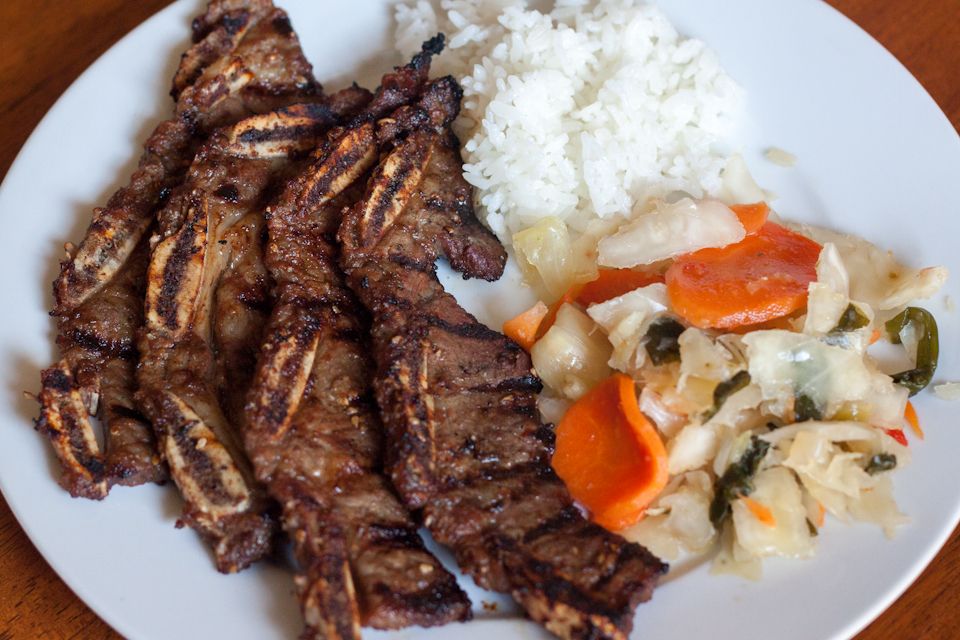 Kalbi (spelled "kal-bi" in Hawaii) is one of my favorite meat dishes to grill at home. Unfortunately, all of the pre-made marinades that I was using last year contain all sorts of wheat in them, so I decided to try making the sauce from scratch. Luckily, it turned out to be really easy and tasted great.
This recipe calls for one Asian pear, but a regular golden pear will do in a pinch.
You'll Need:
3 lbs beef short ribs (flanken/english cut – the one with three bones)
1 asian pear or golden/bosc pear, grated (or 1/2 cup no-sugar-added applesauce)
1/2 cup tamari or coconut aminos
1 cup club soda / soda water
juice of one lime (1/4 cup)
2 tbsp honey
1 tbsp grated or ground ginger
6 cloves garlic, minced
1/4 cup sesame oil
2 tbsp sesame seeds
1/4 tsp red chili flakes
Combine all of the ingredients and marinate them overnight in a ziploc bag.
Grill the kalbi on med/high heat. Since they are relatively thin, it should only take a few minutes on each side.
Serve immediately. To get the full experience, I recommend complementing the kalbi's flavor with something spicy (kimchee) and something relatively bland (rice or cauliflower rice).